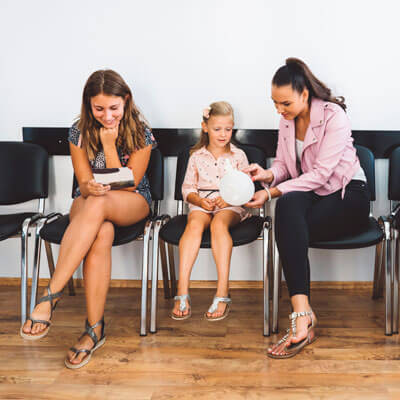 New Practice Members at
Healthy Families Chiropractic
Your entire family will feel relaxed and comfortable at Healthy Families Chiropractic. It's a place that we want to feel just like home for you. Know that your children are welcome here and can just be themselves with us.
You'll be warmly welcomed and given a brief office tour. Then, you and Dr. Andrea will sit down to have a consultation. You'll go through a specific chiropractic examination. If appropriate, you will receive your first adjustment.
If you have a child with special needs, please get in touch with us and we will figure out how to make this process work for you and your family.
When you return, Dr. Andrea will sit down with you to go over your plan of care. You'll receive an adjustment and have any questions or concerns addressed.
Your follow-up visits are shorter and highly focused on your needs.
Navigating the world of insurance can be confusing. Most people have plans without much coverage, or a high deductible to meet. To avoid these pitfalls and to make sure insurance cannot dictate your care, we run a cash-based practice. All costs of care will be discussed with you so that you know all the details.
There's No Better Time to Invest in Your Health
All of Dr. Andrea's recommendations will be customized based on what will work best for you. When you become a practice member, it's all about you-you are in the driver's seat!
Contact Healthy Families Chiropractic today to learn more.
CONTACT US »
---
New Practice Members at Healthy Families Chiropractic | (218) 290-4644